Turbo Drop-segment Blade
Time:2018-05-24 16:53:05Browse:4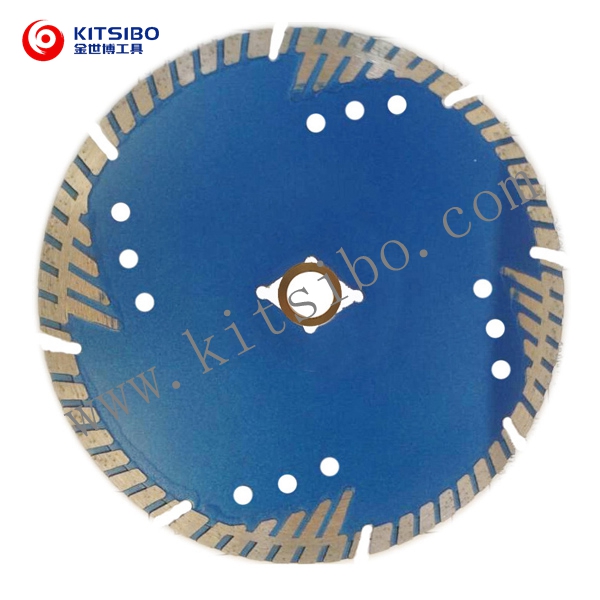 · Abrasive materials, concrete,brick, block, masonry and stone.
· The turbo drop-segment blades are designed with a soft-bonded matrix and employs an air-cooled core body. The drop-segment can well protected the blade from undercutting and deliver long cutting life.
· Use dry or wet.
First, the classification of saw blades
1. According to different materials: high-speed steel saw blade (HSS saw blade), solid carbide saw blade, tungsten steel saw blade, insert alloy saw blade, diamond saw blade and so on.
2. Classification according to application: milling saw blade, machine saw blade, manual saw blade, metal special saw blade (aluminum saw blade, copper saw blade, stainless steel saw blade, etc.), pipe cutting circular saw blade, wood Saw blades, stone saw blades, cutting acrylic saw blades, etc.
3. Surface coating classification: white steel saw blade (natural color), nitride saw blade (black), titanium-plated saw blade (gold), chromium nitride (color), etc.
4. Other classifications and salutations: cutting saw blades, cutting saw blades, slot saw blades, slit saw blades, integral saw blades, insert saw blades, ultra-thin saw blades.
| | | | | |
| --- | --- | --- | --- | --- |
| Item Number | Diameter | Segment Height (mm) | Segment Width (mm) | Arbor(mm) |
| STD105 | 4''/105mm | 8 | 2.2 | 22.23 |
| STD115 | 4.5''/115mm | 8 | 2.2 | 22.23 |
| STD125 | 5''/125mm | 8 | 2.2 | 22.23 |
| STD150 | 6''/150mm | 8 | 2.2 | 22.23 |
| STD180 | 7''/180mm | 8 | 2.5 | 22.23 |
| STD200 | 8''/200mm | 8 | 2.5 | 22.23 |
| STD230 | 9''/230mm | 8 | 2.7 | 22.23 |
| STD250 | 10''/250mm | 8 | 2.7 | 22.23 |
---