Turbo Blade
Time:2018-05-24 16:14:05Browse:5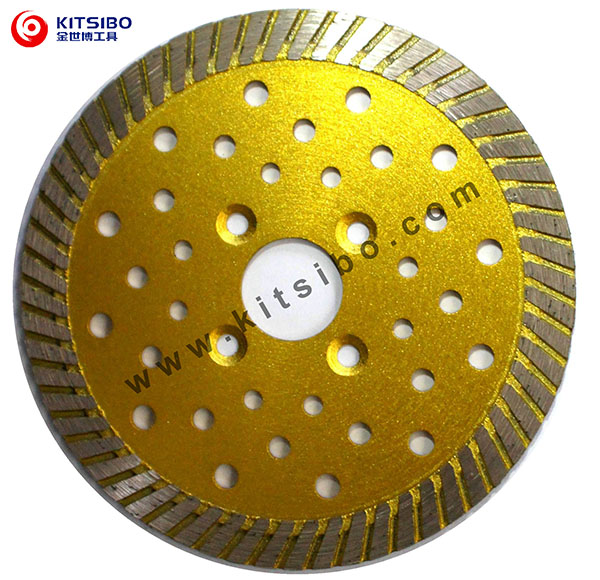 · Granite and stone.
· The turbo rim segment makes it ideal for fast, aggresive, clean cuts.
· Use dry or wet.
Precautions
• Before use, check if the saw blade is damaged. If it is damaged, it is strictly forbidden to use. When assembling, the motor shaft is matched with the center of the saw blade, and the error must be less than 0.1mm.
• Be careful to keep the direction of the arrow marked on the saw blade in line with the direction of rotation of the tool used. When cutting, please do not apply side pressure and curve cutting. The feed should be smooth and avoid the impact of the blade on the workpiece to avoid danger.
·When dry cutting, do not cut continuously for a long time, so as not to affect the service life and cutting effect of the saw blade; wet film cutting should be cooled by water to prevent leakage.
· Experts suggest that after the saw blade is installed, it should be idle for a few minutes to confirm that there is no rocking or beating, and then try to cut a few knives on the grinding wheel or refractory brick, and then the normal working effect is best. If the blade is not sharp enough, use a silicon carbide grindstone.
· The cutting machine must have a safety shield, and the operator must wear protective clothing such as safety clothing, glasses, and masks.
tem Number

Diameter
Segment Height (mm)
Segment Width (mm)
Arbor(mm)
ST105

4''/105mm


10

1.6-2.2

20/22.23


ST115

4.5''/115mm

10

1.6-2.2

20/22.23

ST125

5''/125mm

10

1.6-2.2

20/22.23

ST150

6''/150mm

10

1.6-2.2

20/22.23/25.4

ST200

8''/200mm

10

2.0-2.5

2

0/22.23/25.4

ST230

9''/230mm

10

2.0-2.5

2

0/22.23/25.4

ST250

10''/250mm

10

2.0-2.5

2

0/22.23/25.4
---